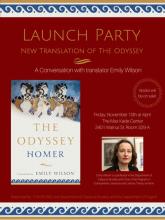 Launch Party: New Translation of the Odyssey
A Conversation with translator Emily Wilson
Friday, November 10, 2017 -

4:00pm

to

6:00pm
The Max Kade Center, 3401 Walnut St. Room 329-A
Come celebrate with Comparative Literature and Literary Theory as we toast to our Chair, Prof. Emily Wilson, for the release of her much-anticipated translation of The Odyssey, out in November by W.W. Norton & Company. Professor Wilson will provide comments on her translation and process, followed by a Q&A. Light refreshments will be served. Copies of the translation will be on sale and can sign books. This event is presented by Theorizing, Classical Studies, and English.
"This will surely be the Odyssey of choice for a generation." — Lorna Hardwick, The Open University, London
"A masterpiece of translation—fluent, elegant, vigorous." — Rowan Williams, Master of Magdalene College, University of Cambridge
Wilson's Odyssey captures the beauty and enchantment of this ancient poem as well as the suspense and drama of its narrative. Its characters are unforgettable, from the cunning goddess Athena, whose interventions guide and protect the hero, to the awkward teenage son, Telemachus, who struggles to achieve adulthood and find his father; from the cautious, clever, and miserable Penelope, who somehow keeps clamoring suitors at bay during her husband's long absence, to the "complicated" hero himself, a man of many disguises, many tricks, and many moods, who emerges in this translation as a more fully rounded human being than ever before. – W.W. Norton
Emily Wilson is a Professor in the Department of Classical Studies and Chair of the Program in Comparative Literature and Literary Theory. Her first book was Mocked with Death: Tragic overliving from Sophocles to Milton (Johns Hopkins, 2004). Her second book was The Death of Socrates: Hero, Villain, Chatterbox, Saint (Harvard UP 2007). Her third was "Seneca: A Life" (also published in the US as "The Greatest Empire": Penguin/ OUP USA, 2015).  She has published verse translations of Seneca's tragedies (Oxford World's Classics), Euripides ("The Greek Plays", Modern Library Random House), and The Odyssey (Norton, fall 2017).  Other publications include various chapters and articles on the reception of classical literature in English literature, and reviews in the TLS and LRB. She is the classics editor for the revised Norton Anthology of World Literature, and Western Literature.