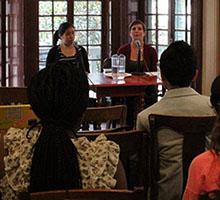 KWH: Lunch with YA Novelist Jennifer Yu (C'16)
Kauders Lunch Program, hosted by Jamie-Lee Josselyn
Tuesday, September 12, 2017 -

12:00pm

to

1:00pm
Arts Cafe at the Kelly Writers House
JENNIFER YU is a Boston resident and recent graduate of the University of Pennsylvania, where she studied creative writing. In her free time, she enjoys reading books she's too old for, roping unsuspecting friends into listening to her play the guitar and being far too invested in Boston sports teams. Most of her pop culture knowledge comes from binge-watching late-night talk show clips and occasional nervous forays into the depths of Tumblr. Find her online at byjenniferyu.tumblr.com or on Twitter: @yuontop.
watch: a video recording of this event via KWH-TV
listen to an audio recording of this event
To learn more, visit the Kelly Writers House website.