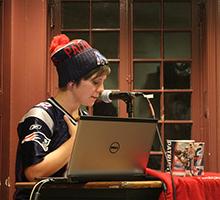 Creative Ventures Program featuring Tyler Burke, Molly Eichel, Jamie-Lee Josselyn, Syra Ortiz-Blanes, Brad Pettigrew, and Sameer Rao
Wednesday, October 26, 2016 -

6:00pm

to

7:00pm
Arts Cafe at the Kelly Writers House
This year's Writing about TV program will feature seven different TV fans/critics/watchers who will each select a show to discuss, using "home" as the driving theme or thread to guide their remarks. "Writing about TV: Home" will allow us to explore themes of origin, family, dwelling, space, comfort, and more, while promoting smart talk about TV. How do representations of home on television relate to real-world homes? How do ideas about home — metaphoric and literal — manifest in various eras or genres of TV? What can cultural representations of home tell us about ourselves?
TYLER BURKE is an Emmy Award Watching senior studying Communications and History. He is assistant director of Penn's improv troupe Without a Net. He is currently working on a few video projects, including a documentary on professional matchmakers. He does not have cable, so feel free to share with him.
MOLLY EICHEL has been an employee at Philadelphia Media Network in its various incarnations since 2010 when she was hired to work on a weekend section that was killed mere weeks after her first day (no, it was not her fault). Since then, she has been a GA features writer, a local gossip columnist, and a TV editor. She's currently the assistant features editor, digital for the Inquirer, Daily News and Philly.com. Molly is also a contributing freelancer at the AV Club where she writes about television.
JAMIE-LEE JOSSELYN is the Associate Director for Recruitment and an instructor for the Penn's Creative Writing Program and she is a Faculty Fellow at Penn's College House at Sansom West. She has a B.A. from Penn, and an M.F.A. from Bennington College. Her work has been published in The New Republic, Literary Hub, The Sun, and elsewhere.
SYRA ORTIZ-BLANES is a senior from Puerto Rico studying History and English. She is the Events Chair for UPenn V-Day and a cofounder of the Penn art collective We are Watching. When she is not stress baking before midterms, she is procrastinating for midterms doing yoga, writing poetry, or binging on her newest TV addiction.
BRAD PETTIGREW accidentally majored in Math (with minors in History and English). A senior in the college, he is the editor-in-chief and founder of The Moviegoer, a student publication dedicated to film criticism and appreciation. He has also been know to dabble in various student film productions on campus, usually as an editor.
SAMEER RAO is a reporter and blogger for Colorlines, focusing on culture news. As a freelance writer, Sameer's work has appeared in Stereogum, VICE's Noisey, Under the Radar, Splitsider, Philadelphia City Paper, WXPN's The Key, PhillyVoice, the Public School Notebook, and Independent Restaurateur. His writing primarily focuses on music, comedy, theatre, film, social entrepreneurship, race, media, gender, critical theory, pop culture, and where all of those things intersect. Sameer is a graduate of Haverford College and Bryn Mawr Graduate School of Social Work and Social Research, and he has also worked as a non-profit marketing coordinator, case worker, and community organizer.
watch: a video recording of this event
listen: to an audio recording of this event
Read more about this event on the Kelly Writers House website.