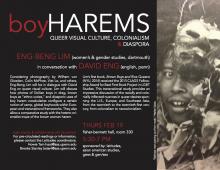 Thursday, February 19, 2015 -

5:30pm

to

6:30pm
Fisher–Bennett Hall 330 (Grad Lounge)
Professor Eng-Beng Lim is Assistant Professor in the Women's and Gender Studies Department at Dartmouth College. He will talk about queer visual culture based on photographs taken by Wilhelm von Gloden of Sicilian boys in classical drag, Colin McPhee of Southeast Asian "ethno-cutie" boys, and Viet Le among diasporics using boy harem vocabularies. These are three sites configuring a certain notion of camp, global boyhoods within European and transnational frameworks; they also serve as a comparative study with the more established hetero-orientalist trope of the brown woman harem. Lim's first book Brown Boys and Rice Queens: Spellbinding Performance in the Asias (NYU, 2014) is an important contribution to the fields of performance, queer, and postcolonial studies. It presents an impressive discussion of the racially and colonially inflected nuances in queer desires spanning across U.S., Europe, Southeast Asia, and Asian America, from the twentieth to the twenty-first century, from colonialism to neocolonialism.
This event is hosted by Latitudes Reading Group and co-sponsored by the Gender/Sexuality Reading Group; the Gender, Sexuality and Women Studies Program; and the Asian American Studies Program.
Snack and light beverages will be provided. Please contact Latitudes coordinators Howie Tam (haot@sas.upenn.edu) or Brooke Stanley (bstanl@sas.upenn.edu) for pre-circulated reading material and if you have any questions or concerns.