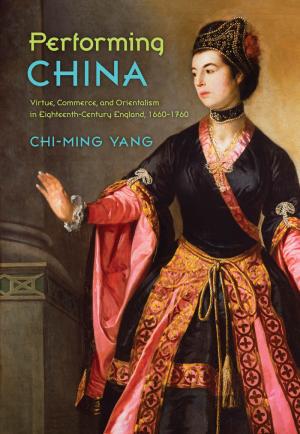 Performing China: Virtue, Commerce, and Orientalism in Eighteenth-Century England, 1660–1760
Johns Hopkins University Press
---
China in the seventeenth and eighteenth centuries was a model of economic and political strength, viewed by many as the greatest empire in the world. While the importance of China to eighteenth-century English consumer culture is well documented, less so is its influence on English values. Through a careful study of the literature, drama, philosophy, and material culture of the period, this book articulates how Chinese culture influenced English ideas about virtue.
Discourses of virtue were significantly shaped by the intensified trade with the East Indies. Chi-ming Yang focuses on key forms of virtue―heroism, sincerity, piety, moderation, sensibility, and patriotism―whose meanings and social importance developed in the changing economic climate of the period. She highlights the ways in which English understandings of Eastern values transformed these morals.
The book is organized by type of performance―theatrical, ethnographic, and literary―and by performances of gender, identity fraud, and religious conversion. In her analysis of these works, Yang brings to light surprising connections between figures as disparate as Confucius and a Chinese Amazon and between cultural norms as far removed as Hindu reincarnation and London coffeehouse culture.
Part of a new wave of cross-disciplinary scholarship, where Chinese studies meets the British eighteenth century, this novel work will appeal to scholars in a number of fields, including performance studies, East Asian studies, British literature, cultural history, gender studies, and postcolonial studies.