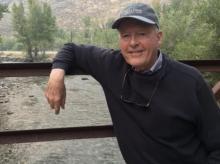 Paul Hendrickson Donates Papers to Special Collections at William & Mary's Swem Library
See this coverage as it originally appeared in The Virginia Gazette: https://www.dailypress.com/2023/11/07/world-focus-writers-legacy-finds-h...
World Focus: Writer's legacy finds home at William & Mary
By Frank Shatz | The Virginia Gazette
Paul Hendrickson is an American author and journalist. He served for 23 years as a staff feature writer at The Washington Post. He has published seven nonfiction books, one of them a national and international bestseller, and he has won numerous awards, among them the National Book Critics Circle Award. For the last quarter-century, he has been on the creative writing faculty of the University of Pennsylvania.
While writing his books — "Hemingway's Boat: Everything He Loved in Life, and Lost," "Plagued by Fire: The Dreams and Furies of Frank Lloyd Wright," "Sons of Mississippi: A Story of Race and Its Legacy," "The Living and the Dead: Robert McNamara and Five Lives of a Lost War," as well as others — during his more than two decades long career, Hendrickson accumulated a treasure trove of research materials and interview notes with a multitude of individuals from all walks of life. His papers are destined to become valuable research material for present and future historians.
Hendrickson's papers were sought by various prestigious institutions, but he decided to make the Special Collections at William & Mary's Swem Library the depository of his literary legacy.
I asked Hendrickson, what brought him to this decision?
"Doesn't it always come down to people?" he replied. "Jay Gaidmore, director of the Special Collections, was kind, decent and forthright from the start. He came to our home in suburban Philadelphia and spent almost two days on our third floor, where I have my writing loft. He assiduously went through the 40-odd boxes of research materials for the books I have written."
Hendrickson noted that it was professor Henry Hart in William & Mary's English department who introduced him to Gaidmore and the college. Hart is a noted literary biographer and former poet laureate of Virginia.
William & Mary's Special Collections is known for its extensive collection of American history. I asked Gaidmore how Hendrickson's papers will contribute to the collection.
"Paul's papers will be an excellent addition to the Special Collection Research Center because of the variety of subjects covered, including civil rights, photography, military history, Cuba, and the original research conducted through interviews and the correspondence with people who are central to his books" Gaidmore said. "Among those are James Meredith, Marion Post Wolcott and her family, Robert McNamara and the children and friends of Ernest Hemingway."
Gaidmore explained that William & Mary Special Collections usually doesn't accept research files of nonfiction books because they typically contain photocopies of original documents.
"Paul's research files are different," he said. "They include annotations on how he was going to use these sources and provided a stream of consciousness unlike any other materials of this sort that I have seen in my career."
Hendrickson said: "My books, all nonfiction, have been all over the place in terms of subject matter, and I am not sure precisely why it is. My range of interest seems to be wide," he said. "The books have been about civil rights, Vietnam, Ernest Hemingway, Frank Lloyd Wright, a lost photographer of the Depression, what it was like to be a Catholic seminarian before 1960 came along. I have just completed a reported memoir of my father and his Black Widow night fighter squadron on Iwo Jima in the last months of World War II."
The book "Fighting the Night" will be published on May 7, 2024, on the 21st anniversary of the death of author's father.
Hendrickson expressed hope that his papers would be utilized by students who are interested in biography, cultural history, political history and literary history.
"And of course, I hope," Hendrickson said, "future professional scholars and biographers might one day, long after I am dust, make their way to Swem Library and use the materials to do something far better in print than I have done."
Frank Shatz is a Williamsburg resident. He is the author of "Reports from a Distant Place," the compilation of his selected column. The book is available at Bruton Parish Shop and Amazon.com.