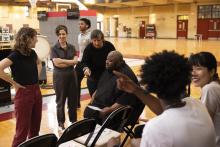 Brooke O'Harra, Senior Lecturer in Creative Writing, Featured in Penn Today
See this coverage as it originally appeared in Penn Today: https://penntoday.upenn.edu/news/be-holding-collaboration-feels-improvis...
'Be Holding': A collaboration that feels improvisational
A three-year partnership among Penn faculty, a poet, a quartet, and a high school results in an original production that premiered in Philadelphia this year.
It was five years ago when poet Ross Gay visited his friend Brooke O'Harra, who teaches creative writing at Penn, and started to tinker with an unfinished poem while sitting on the porch of her West Philadelphia rowhouse.
The piece was "Be Holding," which would become an award-winning book-length poem on Black genius and racial justice, published in 2020. "Be Holding" is an ode to legendary basketball player Julius Erving—known as Dr. J—who dominated courts in the 1970s and '80s as a forward for the Philadelphia 76ers.
A conversation on the porch was the beginning of a collaboration that would turn that poem into a conceptual production—one read by two poet performers, in concert with original music composed by Penn Professor Tyshawn Sorey and played by Yarn/Wire, a music quartet in residence at Penn, and student-actors from a Philadelphia high school. And all of it put together by O'Harra, the director. 
A professionally produced video of the production at Girard College was released this month.
Each performance was unique. "Everybody's kind of improvising. It's more like a concert," O'Harra says. "We do have the text. The one thing that's always the same is the words. And if we miss words, they're in the slideshow on the screens."
The world premiere of the production, supported by a three-year Pew Arts & Heritagegrant awarded in 2020, was in partnership with Girard College, and included its high school students. The performance, May 31 to June 3 on the school's basketball court, received attention in the media, including a story in The New York Times, and locally in The Philadelphia Inquirer, The Philadelphia Sunday Sun, 6ABC,NBC10, WHYY, and WRTI.
A network of friends
Long before "Be Holding" took the stage, O'Harra and Gay met when they were undergraduates at Lafayette College.
"Ross and I became artists together, experimental artists. We started writing original work and putting on our own fringe festivals," O'Harra says.
The two went in different directions after O'Harra graduated in 1995, but kept in touch, writing letters, "trying to figure out what it means even to make work," says Gay, the author of four books of poetry and three collections of essays, who is an English professor at Indiana University Bloomington. They have visited each other over the years, often saying that someday they would collaborate again.
Two decades ago, O'Harra started working with Yarn/Wire—around the time that she co-founded and ran the Theatre of a Two-Headed Calf in New York City—and they have collaborated on several productions. Meeting for lunch a few years ago, Yarn/Wire expressed an interest in being involved in an original work with performers.
"I had the idea of Ross," O'Harra says. And then there was that moment on her porch. 
"Ross and I were doing another performance together and he was staying with me here in Philly and he was writing this long poem, 'Be Holding.' We were hanging out and I was reading it, and I said 'Wait a minute. We have to do this as a project,'" she says.
At that point, the poem wasn't finished. "I was sort of deep into this poem that I had been working on in earnest since 2015," Gay says. "We talked a little bit about the poem, and she said, 'Maybe this is actually the thing that we try to make into a piece.'"
Gay says he was game. "I'm open to the idea of people taking what I've written and kind of messing around with it and seeing what happens," he says.
O'Harra sent the poem to Yarn/Wire, who enthusiastically agreed to collaborate. "And at that point," O'Harra says, "I thought, let's ask Tyshawn." 
Sorey and O'Harra had met at orientation when they were both recipients of the Doris Duke Artist Award in 2015. At that point, Sorey had not yet joined Penn's faculty, but he did in 2020, as Presidential Assistant Professor of Music. Sorey's award-winning work spans a multitude of musical and performance mediums as a composer, improviser, and multi-instrumentalist: He is especially known for his performances playing drum sets.
"We slowly pulled people in who we know and trust," O'Harra says. "It's relationships, and the relationships have been really good. Everyone just brings it: It's a team. We all have histories. We're all bound to each other in these different ways."
Yarn/Wire ended up coming to Penn's Music Department for two, year-long residencies in 2021-23, piggybacking on funding for the work on "Be Holding."
O'Harra also brought on several Penn graduate students, as well as Eugene Lew, Penn Music director of sound and music technology and recording engineer, as the production's sound engineer. "For me, I do feel like Penn has made it possible," O'Harra says.
Getting started 
A senior lecturer in creative writing at Penn since 2016, O'Harra led the fundraising effort, applying for the Pew Arts & Heritage grant. They needed a partner and they found one in Girard College, a full-scholarship K-12 boarding school. The project was awarded a three-year grant of $308,520 in 2020.
The Girard students were not on campus due to the pandemic that first year, but O'Harra, Sorey, Gay, and Yarn/Wire began creating the production there, using the instruments in the band room, many of which were in need of repair. The team applied for and received $35,000 from the MAP Fund to rent the instruments they needed.
"We made a plan, and Tyshawn began the form of how he was going to score it, and we built a language for how I was going to direct the readers," O'Harra says. "It was really natural."
At the beginning, in the depths of the pandemic, the project seemed challenging, Sorey says. "When we first met up, to be perfectly honest, it felt like I didn't know when we were ever going to do this, if this was ever going to go forward," Sorey says, "but that level of uncertainty gave my sense of the music a sense of urgency" and affected "my way of thinking about how we construct the music and how it would put things together."
Gay came to Philadelphia and read the poem to the team. As Sorey talked with O'Harra and Gay and got a sense of the poem, he says he was able to find his way to the music. "It was just amazing getting to really sit with this poem for a long period of time and develop this music more and more over the course of these last couple of years," Sorey says. "It was at first a challenge that ended up being so rewarding."
Sorey created a "cue-based system" and "then broke the language down from there to construct the score for Yarn/Wire to follow along with the poetry. Like the pandemic, the music is also very unpredictable," Sorey says. He had the group work in subsets, "two pianos sometimes, or three of the players, or maybe one percussion solo, and combining that with everything Yarn/Wire has been able to do in their own practice." 
Russell Greenberg, who plays percussion with Yarn/Wire, says working through the pandemic was difficult, but also an opportunity. "It was two years of exploring ideas and shaping the piece in a way with time we usually don't have," says Greenberg, who is in the quartet with Laura Barger, project director and piano; Julia Den Boer, piano; and Sae Hashimoto, percussion.
The quartet incorporated many of the techniques they've used in other pieces, but the decision to locate each musician in the four separate corners of the performance area on the basketball court was unique, Greenberg says. As was not being able to communicate like they normally do as a chamber group. "Usually you are right together, and here we're so spread out. And I think that affected the way that we played and responded to text. And then trying to figure out the ebb and flow of the music with the text was also new," he says.
Creating the production
A conceptual and collaborative project like "Be Holding" is right in O'Harra's wheelhouse, she says. "Working with a collective, with a text, and with musicians, and not having any vision of the final product, is a very comfortable space for me to work in," she says, noting that she was an engineering major in college. "It's kind of like systems: What do we know? What do we have? What do we need to do to put this together?"
They decided to have professional actors read the poem, taking turns, with the students joining throughout. Yolanda Wisher also went to Lafayette College, a first-year when O'Harra was a fourth-year and Gay was a third-year. They all stayed in touch, and Gay asked her to participate. Then Wisher suggested David Gaines as the second poet-performer. Both are based in Philadelphia.
"It was really cool to see the other the poets reading the poem, Yolanda and David, to see the poem in other people's bodies, how it gets interpreted or related," Gay says.
The rehearsals were intense, "with a lot of critique and with a lot of suggestions that I would make over time. We came up with a language together that both is informed by music, but also that is informed by the poem itself," Sorey says.
"We would look at aspects of the poem and we would listen to the way that Yolanda and David would kind of push against the music, and then we would try to find ways to push against the text. So there was a lot of exchange that was happening between the actual reciting of the poem and the music," Sorey says. "I just leave it up to the agency of the performers. And so we never know what's going to come out until it's done."
Once they created the production, the team made sure the Girard students were engaged, working with them through the past academic year. "The students in the production are the students who got into it and felt connected and came back each time," O'Harra says.
O'Harra taught the students choreography, "viewpoints," where they move in sequences, not all doing the same thing, responding to each other.
"The students brought so much to this project," Sorey says. "Just the fact that they're so open to participating in something like this and an openness to understanding not only the historical context of this, but also how it relates to their own personal histories and even shared history."
On stage
The four performances of "Be Holding" were staged in center court in the Girard College gym, the audience sitting on both sides in the bleachers. The Yarn/Wire musicians were in the corners, the poets and student actors in the middle, and video screens, displaying images and the poem in subtitles, on the sides.
"It's much like basketball; that's the kind of experience. Night after night it is going to vary," Sorey says. "We basically have a living score."
The improvisational aspect, O'Harra says, was intentional. "I'm really interested in the emotional dynamics. So for me, I feel like each part is there to kind of propel the next. I don't have a favorite part, because I see it as a kind of system that is responding to what the poem is doing; that it has to bring you to these deep moments and then it has to bring you to these ecstatic moments," she says. "My favorite part is when we move between them."
O'Harra says she is proud of the performances. "I just feel like we did it: We imagined this thing and we trusted each other and we endured a lot of complicated, difficult things, like COVID and other challenges. But as a creative team, we came out so well on the other side," she says.
Looking ahead, the ensemble hopes the production will find the support to be on stage again.
"We're trying to push it into the future. I hope it goes places," O'Harra says. "It's a really beautiful show."
A video of the live performance of "Be Holding" at Girard College is featured on Penn's Center for Experimental Ethnography website.