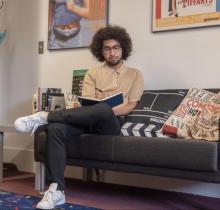 OMNIA Profiles Penn English Major Brandon Anaya
See this coverage as it originally appeared—with bonus video content!—on the School of Arts & Sciences OMNIA website: https://omnia.sas.upenn.edu/story/penn-arts-sciences-pathways-brandon-an...
Penn Arts & Sciences Pathways: Brandon Anaya, C'24 (Video)
Anaya came to Penn with an interest in studying medicine, but his experiences in the College brought out a passion for English and cinema studies.
By Ta'Liyah Thomas
Brandon Anaya first entered college with the intention of pursuing a career in medicine while also hoping to follow his passion for writing. Things changed after taking Intro to Latinx Cultural Studies (taught by Jennifer Ponce de León, Associate Professor of English), when he realized that he wanted to focus solely on English. "I was just reading the most mind-blowing pieces, looking at great art, and just having great conversations during class," he says. In his second semester, Anaya took World Film History to 1945 (taught by Meta Mazaj, Senior Lecturer in Cinema & Media Studies) to fulfill a requirement, but ended up finding another passion: filmmaking.
"Taking these classes made me realize that I do want to go into the film industry, because it's such rewarding work at the end of the day to look at the screen and see the project that you've been working on for weeks or months, seeing it all pulled together," Anaya says. "It's not just an idea in your mind. It's a physical thing now."
Double majoring in English and cinema studies, Anaya has experienced opportunities that he never thought he would have. This summer, he worked as an intern with BlackStar, a Philadelphia-based organization that supports Black, brown, and Indigenous artists and hosts an international film festival each year. Through the English program, Anaya was able to study in London—an experience that has inspired him to return to the U.K. after graduation to attend film school.
Pathways is a student series from Penn Arts & Sciences that highlights the academic journeys of students in the College of Arts & Sciences and the transformational moments that have shaped their intellectual experiences.