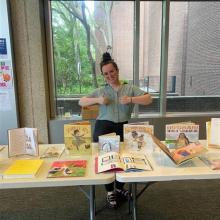 English Major Joelye Land Organizes "Queer Joy for All Ages: LGBTQ+ Representation in Picture Books" Pop-Up Exhibit at Penn Libraries
See this post as it originally appeared on the Penn Libraries website: https://www.library.upenn.edu/news/exploring-lgbtq-themes
Exploring LGBTQ+ Themes in Children's Literature
Picture books from the Penn Libraries' DEIA Children's Book collection explore queer happiness and identity in many forms.
Joelye Land, Undergraduate Research Intern and Penn English Major
On Wednesday, June 28, I ran a pop-up exhibit on the first floor of the Van Pelt-Dietrich Library Center titled "Queer Joy for All Ages: LGBTQ+ Representation in Picture Books." As the Penn Libraries' DEIA juvenile literature undergraduate research intern, I wanted to host an event for Pride Month that highlighted some of the books in the DEIA Juvenile Literature Collection.  It was a really fun experience, and I was able to share the joy and happiness of picture books with so many people.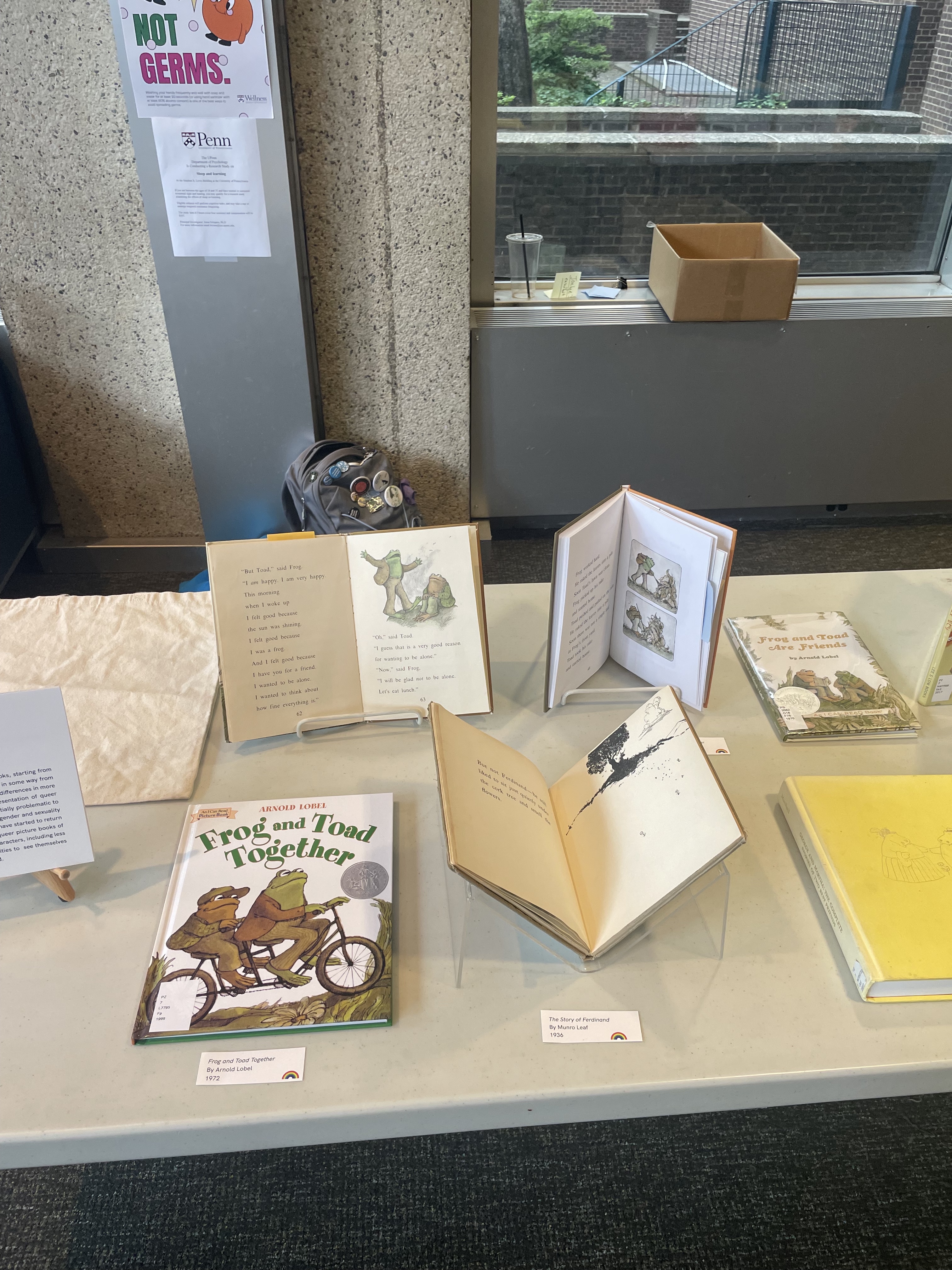 Historical Picture Books
My pop-up showcased picture books spanning from 1936 to 2021. Many of the older books, including the Frog and Toad series by Arnold Lobel and The Story of Ferdinand by Munro Leaf, include queer-coded characters; while a child may not notice anything extremely different about Frog and Toad's relationship, or about Ferdinand the bull, these characters can be seen as queer by adult readers. For Frog and Toad, their loving, supportive relationship and tendency to spend holidays together indicates a partnership that is deeper than mere friendship; they model how anyone can be a supportive partner to anyone, regardless of gender.  
Ferdinand the bull, in The Story of Ferdinand, likes to smell the flowers instead of fighting with the other bulls. He exhibits traits that may not be the norm for his gender, and while his mother is worried at first, she understands that sitting and smelling the flowers makes Ferdinand happy and that is all that matters. Again, Ferdinand is not directly called queer or gay, but his character subverts gender roles and norms in interesting ways.
Notably, these characters are all animals - this is common in picture books generally, but especially in picture books that challenge the status quo or poke at a potentially more complex topic. These books portray the possibility of queerness and difference in fun and interesting stories, without ever making queerness the focus or the issue; instead, happiness and love are at the heart of these books.  
'Queerness Exists and is Good' Books   
The next group of picture books included in this exhibit provided clearer LGBTQ+ representation than their historical counterparts. However, many of these books framed the story in such a way that the conflict or problem in the story centered around the character's queerness or identity. For some books, like Red: A Crayon's Story by Michael Hall, this tactic makes sense. The crayon is a blue crayon with a red label, and everyone is confused when the crayon cannot draw red things very well. When the crayon tries to draw blue things, they turn out much better, and all the crayons are happy when they realize Red is actually Blue. This crayon's journey represents a potential journey for a trans person in a way that can make sense to people of any age.  
A few other books in this section also showcase queer identities, but in a more didactic mode of storytelling. Sparkle Boy by Lesléa Newman features a boy who wants to wear a glittery skirt and sparkly nail polish. At first, his sister is confused and a little annoyed by him pushing against traditional gender roles in this way, but his parents support him. The book culminates in some boys at the library telling him he cannot be a boy if he wears sparkles and skirts, while his sister stands up for him. While there is representation here, there is also the message that some people will disapprove of one's fashion choices. While that idea is true in real life, in real life there is also more going on in a kid's life than their decision to wear a skirt or not; it seemed odd that this was framed as the central problem in the story, possibly passing on the message that wearing what you want to wear will lead to teasing from other kids.  
Another book that does this is King & King by Linda de Haan and Stern Nijland. The story centers on a queen and her son, the prince. The queen wants the prince to find a princess to marry, but he does not like any of the princesses — he ends up wanting to marry a prince instead. While the queen is not upset by this, the book frames his decision to marry another prince as abnormal, still enforcing an idea of compulsive heterosexuality despite the message that boys liking boys is all right. The prince's character is defined by him not liking the princesses. Although these books as a whole have helped encourage more representation of differing gender expressions and sexualities in picture books, some of them problematize LGBTQ+ identities by focusing on the negative experiences of their characters.  
Newer Picture Books
Some of the most recent picture books include representations of LGBTQ+ characters without their identities being the problem or the plot twist. These newer books include Bathe the Cat by Alice B. McGinty, where two dads and their kids try to clean their house before their grandmother arrives. The family just happens to include two dads, and their relationship is not in any way a part of the problem; it is only the cat who causes the issues. The same is true in Grandad's Camper by Harry Woodgate, in which a girl visits her grandpa and he tells her about his adventures with Gramps.  
These books include representations of queer happiness and goofiness without anyone's identity being a plot point or problem. This is similar to the stories with queer-coded characters from some of the older picture books, and it seems like newer picture books that aim to have LGBTQ+ representation are going back to these themes of happiness and love as the basis for their stories.
The pop-up overall was an amazing experience. I was able to gather a huge variety of picture books — some I knew about previously and some I just found in the DEIA Juvenile Literature Collection as I explored. I was able to meet people from all over the library and across campus. I also loved seeing people's happiness as they remembered reading Frog and Toad, or even read a new picture book that reminded them of their own journey. I also curated a list of Young Adult novels for Pride Month, featured on the Penn Libraries' Overdrive site, which I printed for further reading after the pop-up. LGBTQ+ representation is everywhere in literature, and I hope that this exhibit allowed everyone who stopped by to see queer joy represented on the page!