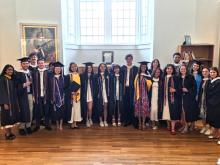 2023 Commencement Reception Celebrates Graduating Penn English Majors and Minors
On Monday, May 15th, the University of Pennsylvania celebrated the graduating class of 2023 at Franklin Field. Graduates and faculty representatives from every school at Penn processed across campus to the 267th Commencement Ceremony, where President Liz Magill conferred degrees and where Tony award-winning actress, singer, and songwriter Idina Menzel delivered the Commencement Address.
After the event, graduating English majors, minors, and their families returned to Fisher-Bennett Hall for a special reception. Penn English faculty and staff as well as FBH neighbors from Cinema & Media Studies joined them for refreshments, with special remarks and toasts delivered by Professor Margo Natalie Crawford (Department Chair) and by Professor Jean-Christophe Cloutier (Undergraduate Chair).