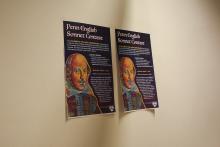 The Daily Pennsylvanian Features the Penn English Sonnet Contest
See this coverage as it originally appeared on the Daily Pennsylvanian website: https://www.thedp.com/article/2023/04/penn-english-department-celebrates...
Penn English Department celebrates 400 years of Shakespeare
Penn's English Department will announce the student winner of their Shakespeare Sonnet Contest at an end-of-the-year party in Fisher-Bennett Hall on April 27.
The prize commemorates the 400th anniversary of the publication of William Shakespeare's First Folio.
"This is a very special year in the history of Shakespeare studies," Becky Friedman, associate director of Undergraduate Studies in the Department of English, said.
The First Folio is the first collected edition of William Shakespeare's plays, published seven years after his death in 1623.
With six copies of the First Folio in Philadelphia, including one at Penn, there are many Shakespearean celebrations in the city throughout April. 
"It's important for the department to participate in the broader Philly celebrations to mark this special occasion for Shakespeare studies and to give students the opportunity to pen their own sonnets," Friedman said.
Penn's Common Press Studio will craft the winning poem into a hand-printed broadside, a single sheet text-based print. Common Press is Penn's unique printing studio, with letterpress equipment that dates back to 1850.
"We do some print production, but mostly what we're doing is a makerspace of analog technologies. So, if people are curious about that, they should look at our calendar and come take a workshop," Mary Tasillo, Common Press director, said 
"We'll be using a collection of type and taking the winning entry and choosing from the about 50 typefaces we have down here and setting that poem one letter at a time. We'll be using our 1963 printing press," Tasillo said. Top of Form
There are many other ways to celebrate Shakespeare on Penn's campus. Fisher Fine Arts Library features a Shakespeare Garden located in front of the library. At Van Pelt Library, students can also request to view Penn's copy of the First Folio in the special collections reading room, or study at the Furness Shakespeare Library.
In Fall 2023, the English department will be offering two courses on Shakespeare: ENGL 1021, "Shakespeare in Love", and ENGL 4500, "King Lear from Shakespeare to Succession".
"Everyone who's taken English classes or has a love of literature, letters and language is welcome to come to the party," Friedman said. "It is an exciting way to mark the end of another really successful, happy, energetic, and vibrant year in the Department of English."