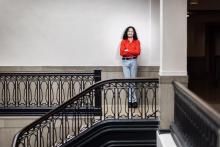 Third-Year Tyler Kliem Featured in Penn Today
See this coverage as it originally appeared on the Penn Today website: https://penntoday.upenn.edu/news/who-what-why-discovering-jewish-identit...
Who, What, Why: Discovering Jewish identity through Yiddish studies
Third-year Tyler Kliem [who works in the Department of English Front Office] has used his Yiddish and Ladino studies as a steppingstone to connect with his Jewish heritage.

Who
When Tyler Kliem arrived at Penn three years ago, he decided that his college journey would include connecting with his Jewish heritage. He wasn't exactly clear how to go about doing this until he saw a listing for a Yiddish language course in the Department of Germanic Languages and Literatures catalog.
"I thought maybe Yiddish would be the blend I needed, since I studied German in high school and it has components of both Hebrew and German," says Kliem, a third-year in the College of Arts & Sciences from Hamilton, New Jersey, majoring in comparative literature and design. He decided to enroll in the class and see where it took him. "I fell in love with it," he says. "I'm really appreciative that Yiddish has been my gateway to learning more about my Jewish identity on my own terms. It's been a good steppingstone."
What
During that first year on campus, Kliem's study of Yiddish led him to explore the language in different ways. He is now conducting an independent study in Yiddish language and culture with professor Kathryn Hellerstein and does research on avant-garde Yiddish literature and art as an undergraduate research fellow with Penn's Wolf Humanities Center. He's also gone through various language-learning and communal programs of Yiddish with Oxford and the Yiddish Book Center. Later, he plans to pursue his Ph.D. in Yiddish studies.
This semester, Kliem is the sole student studying Ladino, also known as Judeo-Spanish—the language formed after the Jews were expelled from the Iberian Peninsula in 1492 and relocated to areas of the then Ottoman Empire. Lecturer Daisy Braverman commutes from New York City to teach just him. "Being the only student creates a very intimate environment and you always have to come prepared. It's kind of intense but it's also been really fun," he says.
Why
Studying these languages has helped Kliem feel closer to his Jewish identity. His mother's side of the family is Ashkenazi Jewish, originally from Poland, and his great-grandmother was the last person in his family to speak Yiddish, he says, but his father isn't Jewish and Kliem had a secular upbringing. "I had never really been exposed to other Jewish people growing up and so to have this experience where I'm learning something alongside fellow Jewish people and we're being exposed to the same exact things. It's really altered my perspective," he says.
He wants to use his experience with Yiddish and Ladino to remind the world that they are not dead languages. "They never have been. They've always been spoken and transported throughout history wherever the speakers have gone," Kliem says. "There's a concept in Yiddish called 'doikayt' which means hereness, the state of being here. That's been emblazoned into Yiddish history. Yiddish language has always gone wherever its people have gone."