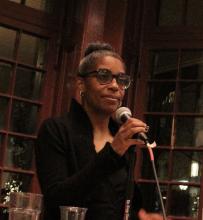 Professor Simone White Featured in LitHub
The Annotated Nightstand: What Simone White is Reading Now and Next
Gayl Jones, Imani Perry, Denise Ferreira da Silva, and More
By Diana Arterian | December 22, 2022
This month, as a kind of looking back, instead of having authors whose books are out this month I invited two authors who wrote great books that are absolutely worthy of more attention than it seemed they received. As I mentioned in my last post, while there are lots of new books I loved this year (Paul Hlava Ceballos' banana [ ], Douglas Kearney's Optic Subwoof, dg nanouk okpik's Blood Snow, Heather Radke's Butts: A Backstory, Catherine Taylor's Image Text Music), one of the two books I really wish more people were talking about was Simone White's or, on being the other woman.
I don't know that I've read a Publishers Weekly review as stuffed with quotations as the one on this collection. To my mind, this illustrates two things regarding White's writing. The first is that her poetry infuses its readers with the instant desire to share her words verbatim. (How many people did I text pictures of poems to? At least half a dozen. I gave a copy to another.)
The second: the difficulty of describing the quiet urgency of White's voice—I don't know that there is anyone else out there writing quite like her. She yo-yos between concrete description ("my ex-husband made taunting sounds at / me in my house in front of my child while i kept eating a piece of pizza and waited for / him to leave" to philosophy of which I can't get enough. Meditating on the tilted laughing/crying emoji, White writes, "belief in the single or primary nature of space-time falls / therefore out of its place, drops off comically in drool. comedy is thus cruel regarding / the dual opportunities presented by catastrophe such as stroke."
White is one of the impressive cadre of poets who had past lives as lawyers (Martín Espada, M. NourbeSe Philip, Shane McCrae all come to mind). In White's previous books, as with this one, we see her rigorous critical thinking applied to what is simultaneously quotidian yet often provokes existential inquiry. Just as Roland Barthes showed us a philosophical mind enduring heartbreak, White similarly illustrates with her sense of self and its manifold definitions and interests. Sex, love, music, motherhood, gender, racial identity, infidelity all define the contents of these pages. "I have used this [trap] music, its relative aliveness, as a proxy for the unbearable ways my / body declares itself irrepressible or central to anything that is," she writes.
White tells us about her to-read pile, "There are a few piles around the house but this one is good. We are reading Da Silva very slowly in my reading group and also in my grad seminar, Keef Wulf is Wilmer Wilson's Beowulf/Chief Keef book that I recently learned about and don't know how I missed before. I was gifted the Philip Whalen recently by my friend Trisha when I joined her German art students on an outing to MoMA, teaching Gayl Jones in the spring, and I plan to get through Divided Soul at last prompted in part by my impatient reading of parts of Kelefa Sanneh's claims re R&B's 'abusive relationship' with fans (say what? in an interesting way)."
Stefano Harney & Fred Moten, All Incomplete
In a follow-up to the lauded co-written work The Undercommons, Harney and Moten consider what their publisher calls "social existence," while engaging with the ideas of Amilcar Cabral, Erica Edwards, Denise Ferreira da Silva, Hortense Spillers. The jacketcopy reads: "Moten and Harney hope to have forged what Manolo Callahan, echoing Ivan Illich, calls a convivial tool that—despite the temptation to improve and demand, develop and govern, separate and grasp—helps us renew our habits of assembly."
Philip Whalen, Heavy Breathing
A famous member of the group of West Coast Beat poets and thinly veiled characters in Jack Kerouac's novels, Whalen became a Zen monk and continued to write poetry his whole life. As the late poet Leslie Scalapino states in an essay on his work, "Whalen's writing… is sound schemes, frequently the leaps and omissions of conversational exchange whose space and process are active mind phenomena. Conversation implies more than one mind, also implies the mind creating self, and simulation of history, the inside and the outside together… Reading's apprehension is actively constructing the text."
Gayl Jones, The Birdcatcher
By her mid-twenties, Jones was being edited by Toni Morrison and making a name for herself with a series of novels, one of which was a finalist for the National Book Award. Last year, Hilton Als wrote, as he does, an amazingly thorough and personal essay on Jones. He interrogates the difficulties of Jones' life (she left writing for over two decades after her husband's highly publicized suicide), and the ways in which this possibly impacted Jones' fiction in her return to the writing world with Palmares (a finalist for the Pulitzer). From the start of her writing life, "Jones plunks her women down in hopeless, filthy muck from the start," Als writes, "and the characters don't question it because everyone's in the shit."
David Ritz, Divided Soul: The Life of Marvin Gaye
Ritz's biography of one of the most capable and gifted American musicians came out just a year after Gaye was murdered by his father (a tragedy I think about at least once a year—what would he be up to, now, if he were still here?). Sadly, I can't find an amazing center-spread graphic in an old issue of The Believer in which there were series of meditations on the different singers with whom Gaye performed duets. Who was the best? Diana Ross? Kim Weston? Mary Wells? You know it was Tammi Terrell.
Imani Perry, South to America
I was ignorant of this book until Perry won the National Book Award for nonfiction just recently—and the moment she began her acceptance speech I knew I needed to get a copy. If you have not read or watched Perry's speech, I can think of fewer better ways to spend 5 minutes. "I write for my people," she said. "I write because we children of the lash-scarred, rope-choked, bullet-ridden, desecrated are still here, standing. I write for the sinned-against and the sanctified. I write for the ones who clean the toilets and till the soil and walk the picket lines. For the hungry, the caged, the disregarded, the holding on—I write for you. I write because I love sentences, and I love freedom more." Her speech illustrates, the way her book does, that form can be an invitation to do more than its usual shape provokes.
Denise Ferreira da Silva, Unpayable Debt
Da Silva's book was also in Anna Moschovakis' to-read pile. I wrote, there: Octavia Butler's Kindred is a what the author described as a fantasy novel—one in which a Black woman in 1976 Los Angeles is transported through time to antebellum Maryland where she becomes increasingly entangled with a violent and complicated white ancestor and owner of her enslaved Black ancestors. With this novel a flashpoint to begin her investigations, Da Silva considers how concepts of capital are so insidious they inflects everything from laws to ethics, not to mention the ways in which we feel free to exploit others.
Wilmer Wilson IV, Keef-Wulf
Wilson is an artist who employs the physical (photography and sculpture) while generally considered a performance artist. This book is a collection of his work by the same name, originally shown in 2015 at Field Projects Gallery. In the show description, Field Projects states, "Wilmer Wilson IV has taken all of the letters and punctuation from the epic poem Beowulf and used them to reconstruct lyrics by the rapper Chief Keef. Wilson's interpretation of Chief Keef is an extended anagram of Beowulf, placed side by side with the text of the famous epic poem.
Merging two texts with vastly different histories and cultural associations, Keef-Wulf infects the contemporary braggadocio of Chief Keef with the poetic boasts of the revered epic. Beyond drawing a comparison between two disparate cultural materials, Keef-Wulf cross-pollinates one with the other. Infused with the mythical old English of Beowulf, Chief Keef's lyrics inhabit a new ground and take on new resonances."
See this coverage as it originally appeared on the LitHub website: https://lithub.com/the-annotated-nightstand-what-simone-white-is-reading...