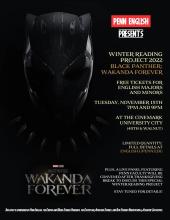 Winter Reading Project 2022: Black Panther: Wakanda Forever
The Department of English, with the Cinema & Media Studies Program, the Center for Africana Studies, and the New Student Orientation & Academic Initiatives Office, are excited to provide free Black Panther: Wakanda Forever tickets to a select number of Penn students during the week following the film's release. 
Collectively, we have rented out two full theaters at the Cinemark University City on the evening of Tuesday, November 15th, one with a 7pm film start time, and one with a 9pm film start time. The English Department will provide 90 tickets on a first-come, first-served basis to English Majors and Minors: 35 seats for the 7pm show, and 55 seats for the 9pm show.
The organizers are also arranging a panel discussion featuring Penn faculty focused on the film. This event will be convened after Thanksgiving Break — stay tuned for details!