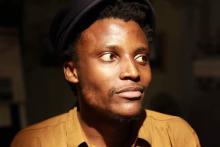 Penn English Ph.D. student named 2022 Presidential Ph.D. Fellow
1st-year English Ph.D. student Zuko Zikalala has been named a 2022 Presidential Ph.D. Fellow.
The announcement was made on September 13th by Penn President Liz Magill, Interim Provost Beth Winkelstein, and Vice Provost for Education Karen Detlefsen.
One of 27 fellows chosen this year from across the University, Zuko joins a prestigious group of students who will receive additional support for their first 3 years of graduate study, including an extended 12-month stipend and additional research funds of $10,000 per year. Fellows were chosen based on their academic promise, the potential impact of their proposed research on their respective fields, and their leadership potential.
"I am proud to see the Presidential Ph.D. Fellows program thriving," said Magill. "Every one of these accomplished scholars is doing significant work that demonstrates a true passion for their fields. Supporting them with these fellowships helps ensure that their work continues to grow and flourish in the years ahead."
Click here to see the University's official announcement of the 2022 Presidential Ph.D. Fellows.