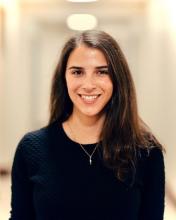 Carson Eckhard, English and History double major, named Dean's Scholar for 2021
Carson Eckhard (English, History), a University Scholar, focuses her research on the history of justice and its modern policy implications, with a particular interest in addressing mass incarceration. Eckhard, also a research fellow at the Andrea Mitchell Center for the Study of Democracy and a Mellon Mays Undergraduate Fellow, has been a key contributor to the Penn and Slavery Project, uncovering past linkages to slavery and racial science in Penn's medical school. Her work on this project was recognized with a Pincus-Magaziner Family Undergraduate Research Grant and the Department of History's Jeanette Nichols Prize. Eckhard is completing two senior theses, one in History on the practice of "convict leasing" in Florida, and one in English on the literature, poetry, and song lyrics of incarcerated individuals across the American South. Professor Margo Crawford calls Eckhard "a visionary scholar who makes her public service inseparable from her scholarship." Her activism with social justice organizations has been far-reaching and she notably launched the Terrance Lewis Liberation Foundation in support of recent exoneree Terrance Lewis. Eckhard will pursue a J.D./Ph.D. in History upon graduation.  
Read more here:
https://www.sas.upenn.edu/index.php/news/students-honored-2021-deans-sch...