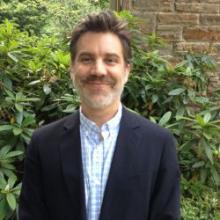 Jed Esty named Guggenheim Fellow
Jed Esty, Department Chair and Vartan Gregorian Professor of English, has been awarded a Guggenheim Fellowship!
Esty's Guggenheim project is called Cold War Victorians: How the British Imagination shaped American Power. It surveys the trans-Atlantic trade in popular narrative forms that has defined the shared dreamworld of the Anglo superpowers since 1880. Most of the major genres of popular fiction currently enjoyed by American (and not just American) readers and film audiences have their roots in the late Victorian period in Britain. Looking at the westward flow of spy novels, detective stories, alien invasion plots, imperial adventures, treasure quests, historical romances, and science fiction tales, Cold War Victorians follows the baton pass from one Atlantic empire to another. It is a study in the relationship between global power and the symbolic ambitions of the Anglophone media, organized to address a central question: how did British notions of imperial destiny come to shape the American mind?
About the Guggenheim Fellowship: United States Senator Simon Guggenheim and his wife established the John Simon Guggenheim Memorial Foundation in 1925 as a memorial to a son who died April 26, 1922. The Foundation offers Fellowships to further the development of scholars and artists by assisting them to engage in research in any field of knowledge and creation in any of the arts, under the freest possible conditions and irrespective of race, color, or creed. The Foundation receives approximately 3,000 applications each year. Although no one who applies is guaranteed success in the competition, there is no prescreening: all applications are reviewed. Approximately 175 Fellowships are awarded each year.
Award posting:https://www.gf.org/fellows/all-fellows/jed-esty/