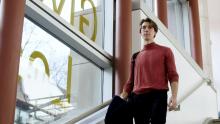 Julia Bloch and English major Colin Lodewick featured in Pathways
Julia Bloch, faculty in the Department of English and director of Penn's Creative Writing Program, and Colin Lodewick, C'19, are featured in Pathways, a new series from Penn Arts and Sciences that highlights the academic journey of students in the College of Arts and Sciences and the transformational moments that have shaped their intellectual experience. Lodewick shares how Bloch's creative writing course and a modern view of John Milton's Paradise Lost deepened his appreciation of language study.
View the video at omnia.sas.upenn.edu/story/penn-arts-and-sciences-pathways-colin-lodewick-c19-video. Video by Alex Derrick.