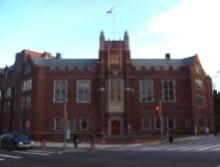 Loretta M. Witham Turner receives a 2018 School of Arts and Sciences Staff Recognition Award
Loretta M. Witham Turner, English Department Administrator and Undergraduate Coordinator of the Undergraduate English Program, is a receipient of the 2018 SAS Staff Recognition Award! 
The SAS Staff Recognition Program was created to reward our talented and motivated staff and recognize their initiative in solving problems, achieving efficiencies, thinking creatively, and inspiring cooperation across departments and schools throughout the University. Staff are honored with this award for extraordinary contributions to the mission of the School that go above and beyond the staff member's job description. The award is intended to reward those staff members whose work is consistent with and committed to the School's objectives for excellent performance. 
Congratulations to Loretta!