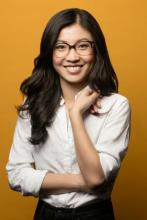 Weike Wang announced as 2018 Whiting Award Winner in Fiction
Weike Wang, lecturer in the Creative Writing Program, is a 2018 Whiting Award Winner in Fiction. Weike Wang is the author of the novel Chemistry (Knopf, 2017) and her short fiction has been published in Glimmer Train, the Alaska Quarterly Review, Ploughshares, and others. Wang is a finalist for the 2018 Aspen Words Literary Prize and a 5 Under 35 National Book Foundation honoree. She holds a BA from Harvard University, an SM and SD from the Harvard Chan School of Public Health, and an MFA in Fiction from Boston University. She lives in New York City.
The Whiting Foundation provides targeted support for writers, scholars, and the stewards of humanity's shared cultural heritage. Since 1985, the Whiting Foundation has supported creative writing through the Whiting Awards, given annually to ten emerging writers in fiction, nonfiction, poetry, and drama. The awards, of $50,000 each, are based on early accomplishment and the promise of great work to come. The Foundation aims to identify exceptional new writers who have yet to make their mark in the literary culture. Though the writers may not necessarily be young (talent may emerge at any age), the grant ideally offers recipients a first opportunity to devote themselves fully to writing, and the recognition has a significant impact.  Whiting winners have gone on to win numerous prestigious awards and fellowships, including the Pulitzer Prize, the National Book Award, the National Book Critics Circle Award, the Obie Award, and MacArthur, Guggenheim, and Lannan fellowships, and their work has shaped and advanced literature in this country over the past three decades.
2018 Whiting Award Winners: Anne Boyer, Patty Yumi Cottrell, Nathan Alan Davis, Hansol Jung, Rickey Laurentiis, Antoinette Nwandu, Tommy Pico, Brontez Purnell, Esmé Weijun Wang, and Weike Wang