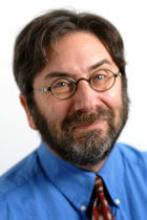 Writer in Residence Dick Polman interviews Michael Wolff at Free Library
Read Dick Polman's full article about the interview here:
"Nobody is more stunned about the stratospheric sales of "Fire and Fury" than the guy who wrote it.
"Michael Wolff and I were talking backstage prior to his gig last night at the Free Library of Philadelphia, and he confessed that he never saw it coming. He was convinced that he'd gotten the inside skinny about Trump's den of dysfunction, but in our info-saturated ecosystem, with Trump under scrutiny 24/7, who could have envisioned 11 printings within 12 days of release? Who could have imagined that the first stop on his book tour would be a news event?"