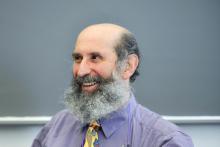 Professor Cary Mazer Wins ATHE Award of Excellence in Playwriting
Professor Cary Mazer's new play, Shylock's Beard, has won the Association of Theatre in Higher Education (ATHE) Award of Excellence In Playwriting. Shylock's Beard will he honored with a professional script-in-hand reading at the annual ATHE meeting this summer in Chicago. 
A bit about the play: A Jewish professor dramaturging a professional production of The Merchant of Venice finds that the events of life are forcing him to identify more and more with Shylock, a character he loathes.