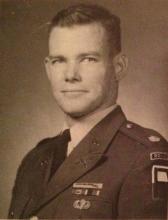 Posthumous Ph.D. to be awarded at Grad Commencement
Monday, May 13, 1:00 p.m.
This year, in addition to conferring standard degrees on our graduates, the department will grant a Ph.D. posthumously to Mortimer Lenane O'Connor, who was a doctoral student in English at Penn from the late 1950s through the mid 1960s. Mort, as he was known, had completed his courses and exams and was nearly finished with his dissertation when he was deployed to Vietnam. He served there as Lieutenant Colonel in command of the Army's 1st Battalion, 2d Infantry. He was killed in action in the Iron Triangle north of Saigon on April 1, 1968.
Mort's doctoral dissertation, directed by Professor Arthur "Joe" Scouten, was a critical edition of Henry Nevil Payne's Restoration drama, The Siege of Constantinople: A Tragedy (1675), whose Byzantine setting masked the playwright's commentary on the Catholic–Protestant tensions of Charles II's court. Based on a folio edition held in Columbia University's library, the project includes a comparison of extant copies of the play, an editorial rationale, detailed annotations, and essays on the play's literary sources and political dimensions. The dissertation itself, rediscovered in an old briefcase, was accompanied by a trove of academic records, including Mort's typewritten, hand-corrected correspondence with members of his dissertation committee.
A group of current faculty in the department read through Mort's dissertation and determined that the work, being nearly complete and of very high quality, thoroughly justified the awarding of the Ph.D.
Brian Wright O'Connor, Mort's son, has written an op ed about his father in the Philadelphia Inquirer (click here to read it). Accompanied by members of his family, Brian will attend the Graduate Commencement ceremony to receive the diploma on his father's behalf.