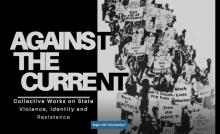 "Against the Current: Collective Works on State Violence, Identity, and Resistance"
Congratulations to the six scholars in Tajah Ebram's Junior Research Seminar, "Radical Black Feminism: Writing the Carceral State," who developed their final projects into a digital anthology - which launches today. The anthology is a collection of their critical and creative final projects founded in the issues and writings in the course, which came at the intersections of black feminist thought, black women's writing and carceral studies.
The Junior Research Seminar (ENGL200) is our capstone course in literary scholarship and research, taken by all majors. We offer 5 or 6 different versions of the course each semester, taught by our 4th-year PhD students. The course brings together faculty, graduate students, and undergraduates in the collective scholarly endeavor of a research university, and we are proud to showcase the incredible work done by these six undergraduate researchers.
See the site here: http://pennds.org/engl200blackfeminisms/radical-black-feminisms/index