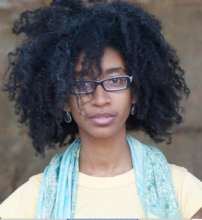 Alexis Pauline Gumbs, "Code Made Flesh: Sylvia Wynter Oracle"
Department Lecture & Book Signing
Tuesday, October 23, 2018 -

4:30pm

to

6:00pm
Fisher-Bennett Hall, room 401
'Code Made Flesh': Sylvia Wynter Oracle is an interactive lecture based on Alexis Pauline Gumbs's forthcoming book Dub: Finding Ceremony. In this work Gumbs explores digital, citational genetic and heretical storytelling as ceremony and praxis towards another way of being.
Alexis Pauline Gumbs is the author of M Archive: After the End of the World, Spill: Scenes of Black Feminist Fugitivity and the forthcoming Dub: Finding Ceremony all from Duke University Press. She is also co-editor of Revolutionary Mothering: Love on the Front Lines. Alexis lives in Durham North Carolina where she co-creates the Black Feminist Bookmobile project, the Mobile Homecoming Trust and Brilliance Remastered. She currently holds the visiting Winton Chair in Gender, Women and Sexuality Studies at University of Minnesota.