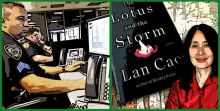 WIP | Mitchell Center Graduate Workshop
Between Past and Future
Wednesday, January 17, 2018 -

12:00pm

to

1:30pm
College Hall, room 209
Each year, the graduate fellows of the Andrea Mitchell Center invite graduate students from universities throughout the region to present their work-in-progress to a critical but supportive audience.  The topics are not linked to an annual theme, but each session includes two papers that are thematically linked.  Sessions in the past have been devoted to issues of democracy, constitutionalism, and citizenship, including surveillance, technocracy, migration, race, social rights, empire building, party politics, education, the carceral state, and many more.  Faculty, undergraduate and graduate students, and members of the public are encouraged to read the papers and attend the workshops to participate in lively academic discussions.  Graduate workshops convene once a month, usually on a Wednesday at lunchtime.  Food is provided.
Aaron Shapiro (Annenberg School for Communications)
"Predictive Policing and the Performativity of Data"